Owner Transition
Understanding your building and key systems is essential to maintaining performance, reliability, and uptime, and helps maximize the useable life of your equipment. The Enviros training and transition program was designed to help ensure your facilities team can effectively operate and maintain your building systems. This includes systems manuals, operations and maintenance manuals, high quality training videos, and commissioning report with all associated documentation.
Your transition and training program is led by the commissioning agent who knows your facility inside and out.
A systems manual complies pertinent information on each installed system for current and future operations staff. Information includes design and construction documentation, maintenance information, operating instructions, commissioning process records
Operations + Maintenance Manuals
Detailed O+M Manuals provide your facilities team with critical information needed to optimize the performance and lifespan of your installed systems. Manuals include complete asset details, guidance on daily operating procedures, preventative maintenance programs and schedules, commissioning test results, warranties, and decommission/demolition requirements.
Our program features detailed instruction delivered on-site with hands-on demonstrations from the installing subcontractors and the commissioning agent to ensure each team member is confident in their system familiarity. Training is captured by skilled videographers and professionally edited.
The Enviros team manages the commissioning process digitally in iPerformance which compiles all checklists, testing results, issues logs, and asset information in a searchable and accessible database. Commissioning reports including details of the commissioning process and results, and all system data is provided at the end of construction with updates following the warranty period.
Regular recommissioning of systems is recommended to maintain desired levels of performance and efficiency. The recommissioning plan provides a detailed guide including testing activities, procedures, and recommended intervals.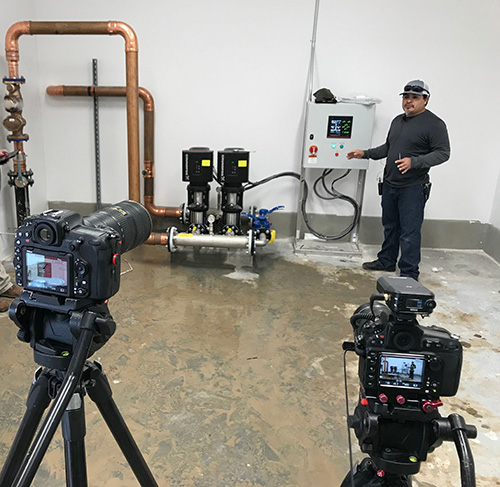 Empowering your Team.
Knowledge Transfer
The training of your operations and maintenance team is essential to sustaining the performance of your facility over time. Our unique Knowledge Transfer program was developed to deliver facility-specific training programs led by your Enviros commissioning agent. Each program is tailored to meet your specific needs and leverages the lead commissioning agent's knowledge of the facility and the installed systems, along with the lessons learned throughout the commissioning process.
Your on-site Knowledge Transfer program features detailed instruction, hands-on demonstrations, and the opportunity for your staff to get answers to any questions they may have. All instruction is recorded using multiple cameras, professional audio equipment, and lighting to provide high quality training videos that are explanatory, engaging, and easy to watch to promote retention. Once complete, your customized video training library will help you minimize the impacts of knowledge loss due to turn-over and staffing changes. We have found this approach is valuable to the participants and provides enhanced depth to benefit those who rely on the videos in the future.